How to become a Spine Expert
Take a peek inside our education concept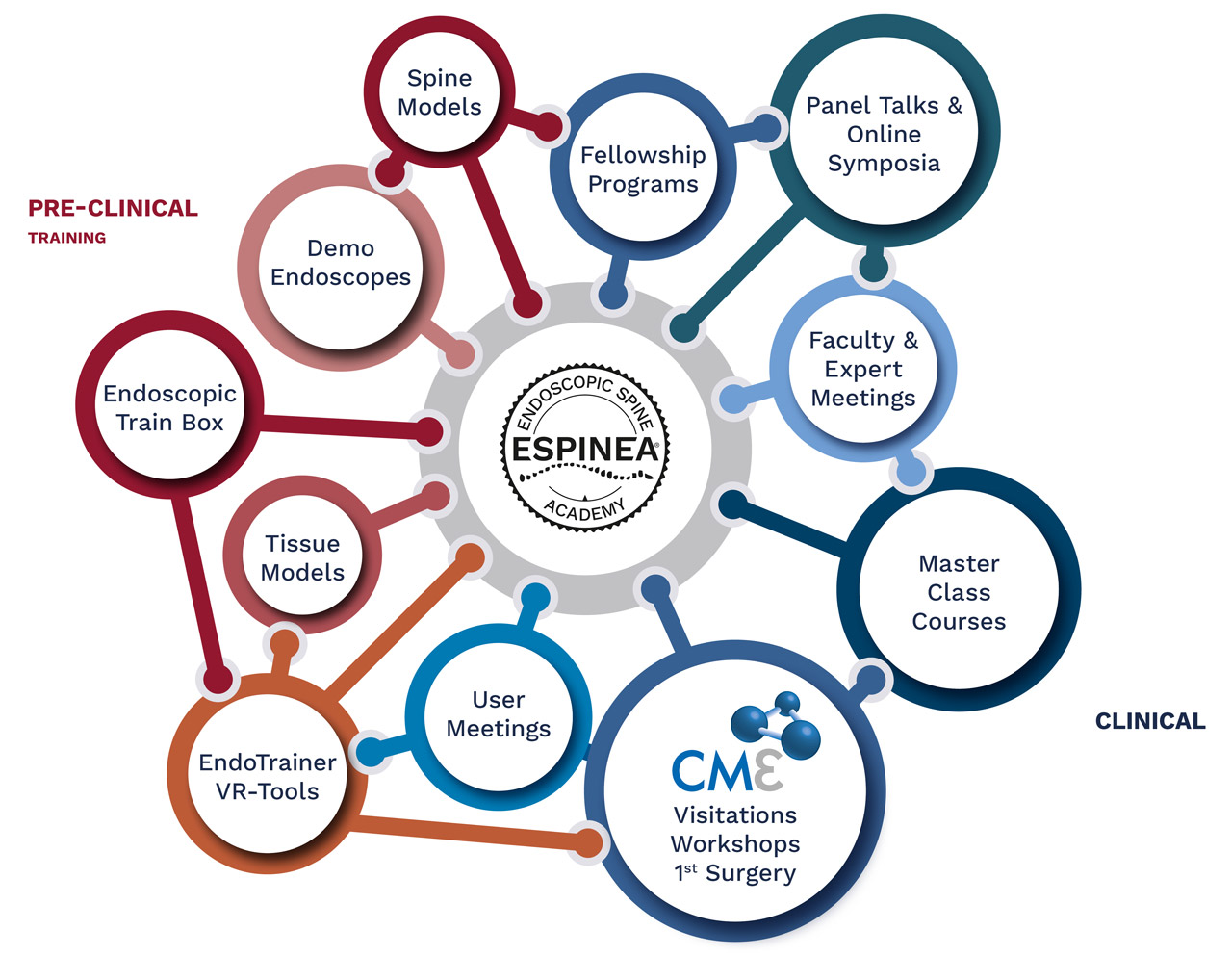 The ESPINEA® Training Program addresses the following superordinate goals:
The Training is based on a level 1 to 6 program, containing visitations, workshops, first surgeries, continuing support, dedicated meetings as well as fellowship and faculty programs. Level 1-4 and the continuing support are developed for all users. The faculty & fellowship programs address especially those surgeons who seek intense collaboration with ESPINEA® and/or joimax® , e.g. as a faculty member and who want to move to the Expert and Master level of expertise.
One step further in endoscopic spine surgery
Espinea® would like to present the most advanced techniques of endoscopic spine surgery to interested and ambitious professionals. The CM3 education is part of the training program from beginner to expert. After you have gained first impressions during the internship and the workshops and having performed your own operations, you are on your way to becoming an experienced endoscopic spine surgeon. Additional user and expert meetings, as well as fellowship and faculty programs you can become an expert or even master in endoscopic spine surgery.
Apply for a course and become an
Endoscopic Spine Expert.
"Exactly one year ago, I attended a joimax® basic course in Frankfurt. The course was great, the staff very supportive and I decided to adopt endoscopic surgery. During the year, I attended another course in Düsseldorf, visited the great Menno Iprenburg and three other excellent surgeons. Last week, a brilliant surgeon vastly experienced in endoscopy came to Amman and together we did EIGHT fantastic cases. Thank you Dr Guntram Krzok. I learned so much from you, and will always be grateful. I am delighted to let you know that I started my cases of endoscopic surgery in Amman and already did a decompression and a disc case in my first week! I am absolutely confident that my team and I in Jordan will be offering this great technology to a huge number of patients from the whole of the middle east. This success will never have taken place without the support of joimax® ."