你好-ESPINEA® APAC Community Meeting
July 25-26, 2022 | Singapore
Dear Community Members
It is with great pleasure to make this address as we are finally able to come together and meet face to face with each for the first time in Singapore for the purpose of greater education. Throughout the last year, we have been determined to find ways to continue the growth and teaching of endoscopic spinal surgery. From these discoveries and experiences, we plan to preserve the positives we have intuitively come across and move forward shaping the future of endoscopy.
For those who are not able to physically join us, we have arranged online access to our morning sessions to assure that every member of our endoscopic community that wants to be present, can be. For those who can make the journey, we look forward to welcoming you to Singapore and seeing the continuation of your education with ESPINEA® in the future.
Our community meeting goal
Training & Education
With this as our focal point, the Community Meeting creates an atmosphere to help the surgeon gain experience and continue to learn while being surrounded by peers and fellow endoscopic experts. This atmosphere encourages the exchange of skills and new technology trainings, assuring every participant leaves more advanced in endoscopic spine.
Scientific Information
Receive the latest scientific news, information, and publications through our many lines of global communication. See what new products are available, how our engineers are pushing the envelope, and how we continuously strive to keep you equipped with the newest technology for feeding your confidence level by using and applying it the right way.
Community
Having the ability to come together online or on-site as a group of expert surgeons in the field of endoscopic spine is very important. As we share the lifestyle and progress as one big family of worldwide surgeons, we set the standards of spinal therapy.
Keep in touch
The world of endoscopic spine is quickly expanding, so it is vital to stay connected with a reliable means of online and on-site communication. Why not help that circle grow this weekend? Being able to meet with surgeons and friends will ensure your worldwide bonding.
Day 1 | Regional Round Table Meetings
Kicking off the event, we start with a Welcome speach by the ESPINEA(r) bord members.
The day is filled with highly insightful presentations covering the evolution of endoscopic spine surgery, development over the past 40 years and about the all-new Trans SAP approach! 
Following up the presentations and a lunch-break, we move on to the Hands-on showcase where you get to work on 3 seperate stations to broaden your horizon. 
The day ends with a Q&A session and a group dinner!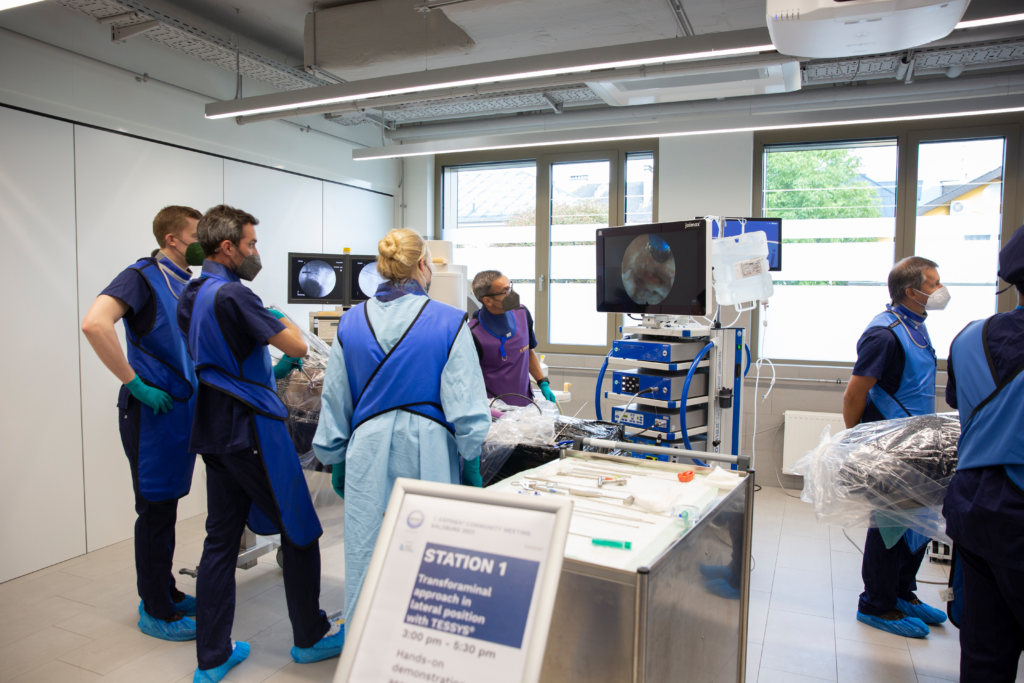 Day 2 | Conclusion Meeting

Day 2 starts off with a recap of the previous day.
The second day is once again filled with highly insightful presentations covering the multilevel spine endoscopy, planning a smooth thoracic spine surgery, and then a presentation of 40 years of learning Experience from the Wooridul Hospital! 
Following up the presentations and a lunch-break, we move on another round of Hands-on showcases where you continue to work on 3 seperate stations all in the name of spine education. 
The day ends with a "Ask the experts" session and the certificate ceremony!
TIMETABLE
Day 1| 8:00 am – 17:30 pm 
Day 2 | 8:15 am – 4:00 pm 
Dinner | 8:00 pm – open end
We look forward to meeting you at the ESPINEA® Community Meeting!