Endoscopic Spine Surgery Workshop for Experienced Users
Upgrade workshops are strategically designed for surgeons that are looking to take their first steps deep into Endoscopy.
These upgrade events are designed and tailored to support surgeons who want to take their first deepening steps into endoscopy. At the events, we provide an overview of endoscopy and break down each surgeon's career path to show them how they can advance endoscopically.
Three participants, as well as an ESPINEA® faculty member, will discuss new techniques and case reports, both from the portfolios of all attendees, to exchange the experiences in the operating room. Thus, allowing us to see where each surgeon is in their endoscopy career and how they can overcome any obstacles or uncertainties. With the guidance from a seasoned veteran, everything is possible.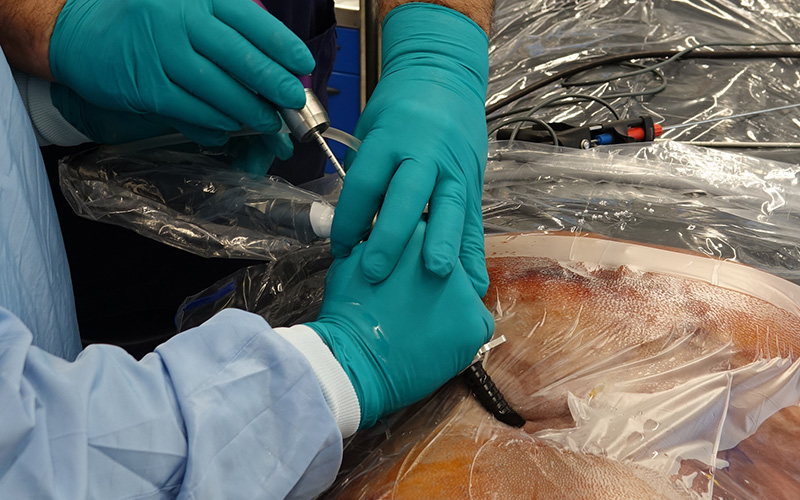 Target Group
Surgeons experienced in endoscopic procedures who want to expand their range of indications.
Please note:
Own images and case reports are mandatory.
Workshop Dates
July 8, 2022 | Karlsruhe (Germany), plus previous Webinar
July 9, 2022 | Houston, TX (USA), plus previous Webinar
August 11, 2022 | ORSI, Melle (Belgium) , plus previous Webinar
October 7, 2022 | Karlsruhe (Germany) (registration will open soon)
November 5, 2022 | Providence, RI (USA) (registration will open soon)
Only three participants per upgrade workshop.
All participants need to have endoscopic experience.
Course Fee (valid from January 2022)
The fee includes workshop materials and refreshments.
On-Site upgrade workshop: € 790 per participant (incl. applicable VAT)
---
General Information for Workshops
Course Language
International workshops are held in English. For specific groups, courses can be held in the participants' mother tongue.
Payment conditions
Payment in advance must be made in full before the course date. An invoice will be sent upon receiving a registration form.
Accommodation
We are happy to give you some hotel recommendations. Please ask when booking for special ESPINEA® rates (not guaranteed).
Certification
CPD credits will be requested for all ESPINEA® workshops. Points are announced in the course agenda. If you need any further information please contact us: info@espinea.org
General Terms and Conditions
Workshop Registration
Registrations for ESPINEA® workshops need to be in writing. The decision on a potential participation is done on order of receipt. No claim can be asserted by the applicant.
Registration Confirmation
Registration will be confirmed by a separate email and/or a written invoice representing a mutually binding obligation. After receiving the invoice, payment must be submitted no later than 14 days.
Cancellation
If a cancellation occurs 2-4 weeks before the course, a 50% fee is charged. If cancellation occurs less than 1 weeks before the workshop, the full workshop registration fee will be charged.
Please note that cancellations must be submitted in writing.
Workshop Format
All workshops contain online theoretical lectures and on-site intense practical training. Access planning and training of surgical techniques as well as handling the instruments and endoscopic orientation are trained on an anatomical specimens, supported by preparative training on saw-bones and simulators.
The workstations are equipped with C-arms, endoscopy towers, and surgical instrumentation by joimax®. X-ray protection is provided.
There are 2 to 5 workstations per course with a maximum of 4-5 participants per station.